The Position: Volunteers for our Annual General Meeting
Purpose of the Roles:
We're hosting CAWST's Annual General Meeting on September 24, 2019 and we need volunteers to be part of this important event! The Annual General Meeting (AGM) is a time for our members to give feedback and participate in the decision-making process for the year ahead. This role requires volunteers for four main shifts: Set Up, Registration, Event Support, and Take Down.
Duties and Responsibilities:
Set Up: come to CAWST in the afternoon, 1 – 3:30 PM, and help to move furniture, set up signage, and get the office ready for our AGM
Registration: work the registration table from 4 – 5:50 PM, and greet guests, helping them to find their name tags and way around the office
Event Support: help the event run smoothly from 5:30 – 7 PM
Take Down and Tidy Up: help us take down and put away event materials, 7 – 8:30 PM (or whenever complete), cleaning up the office and restoring it to its normal state
For all shifts, we expect you to be friendly, reliable, and adaptable to the needs of the event
You are welcome to take a break and enjoy the event, in addition to fulfilling your shift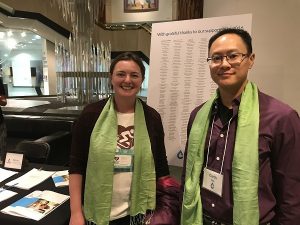 Orientation and Training: Volunteers will be briefed upon their arrival to the event. Please arrive on time to your shift.
Department and Supervision: Public Engagement and Donor Initiatives
Location: CAWST, B12 – 6020 2 St SE, Calgary, AB
Time Requirements: All shifts are on Tuesday, September 24, 2019. Shifts are explained above and in our sign up.
Application: If you are already a volunteer and would like to sign up for this position, please sign up for shifts here.
If you are new to CAWST, please complete the volunteer sign up form.
If you have questions, please contact the Volunteer Program Coordinator, Tori D'Avella, at volunteers@cawst.org or 403-681-6220.
Additional comments:
All CAWST volunteers are invited to participate in a 4-day training workshop of their choice after completion of 40 volunteer hours. CAWST welcomes volunteers searching for work experience, and is happy to provide letters of reference to interested volunteers.