Dalia is a changemaker in Colombia. She fights for visibility: of herself, the need of rural communities, and the lack of human rights, including safe water, sanitation, and hygiene.
"Rural communities are always overshadowed by the needs of cities and nobody sees our need or our work. We see a lot of human rights and environmental violations. We don't have a good health system, good education, adequate housing, let alone basic sanitation. We spent a year and four months without water in the community of Confuso. But it's not just me, when I look back at my ancestral roots, I see my grandparents', my parents', my uncles', and aunts' fight. I see the fight of generations."
Water is only part of the complex challenge that Dalia fights to change, given the evolving peace process in Colombia.
"The main challenge is not to put my life, my family's, or my community's life at risk. Groups outside the law who don't like my work on making rural women visible have always threatened me. We are victims of the conflict. Yet, we are proudly Afro-descendant women. Our hope lies in the Colombian peace process. That has been the fight: to unite with each other to close the gap and get our needs met."
Together, their voices are louder and their challenges are more visible.
"We call for education, health, housing, and projects. We also demand to be taken into account as Afro-descendant women and not to be stigmatized because we have different skin color or type of hair. That is what I have to face every day and how I live.
What I have always wanted was for women to be visible, especially rural women since we are the ones who hold the municipality, the department, the nation, and the world. We are agents of change. We create the change. That is the fight and what encourages me to continue day after day with this fight."
Dalia was fighting so actively to support her community to access their water issues, that her message got to the Fonseca Rotary Club. They approached Dalia to support them with the installation of a water system in their community and biosand filters. Through CAWST training, and with the support of the Rotary Club, Dalia played a leadership role in teaching families on the importance of these filters, as well as their proper operation and maintenance.
Being president of the community action group, these days I feel pride every time I turn on the faucet in my house and I see the spurt of water.
"Since we got water, we had the opportunity to grow vegetables and raise chickens. I take pride in having quality of life these days because water is essential for life. And where there is water, there is life.
Through community action, we could achieve it.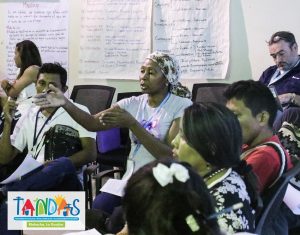 -Dalia's impact goes beyond her community of Confuso. She has presented her experienced and advocated for rural communities at events with the Ministry of Agriculture and the United Nations Food and Agriculture program.
Not only am I proud of that, but also the children because, my little niece, Zairet Julio, who has long hair now, thanks to improved health and nutrition, says: 'I drink water but not water with parasites in it. This water cannot make me sick and I know this is potable water.' I am proud of that."
Clearly, Dalia is a role model for community change. Through Dalia's knowledge sharing and advocacy for change, young girls like Zairet will not only be able to access water, but take pride in their identity. This is the ripple effect of Dalia as a changemaker and water knowledge as a tool for change. 
Thank you for joining the fight for generations; your investment in water knowledge will last for generations through the Water Circle.
---

Changemakers is an impact report produced quarterly for members of the Water Circle. Members of the Water Circle are donors who make a contribution each month to support changemakers, such as Dalia. For more information, visit caw.st/watercircle