CAWST at World Water Week
Let's connect in Stockholm!
CAWST will be in Stockholm from Saturday, August 24 to Friday August 30 for World Water Week activities and the SuSanA (Sustainable Sanitation Alliance) meetings.
Will you be there? Get in touch, let us know what you're up to. We will be connecting with colleagues to share knowledge and learn from each other's work in WASH.
The CAWST team traveling to Stockholm will include: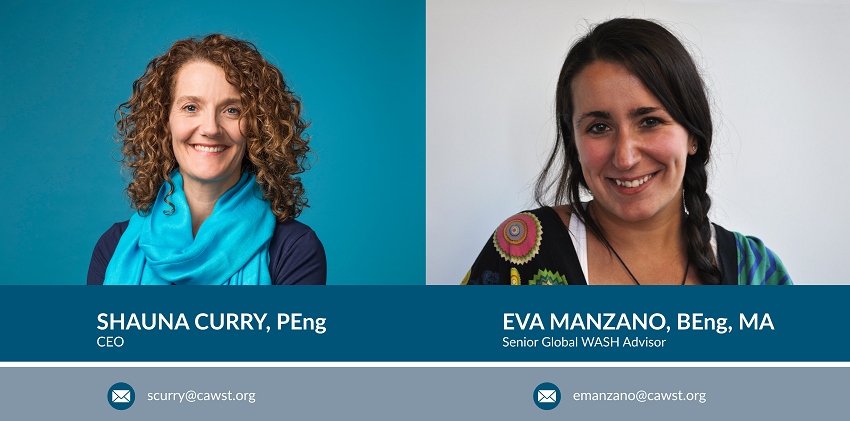 What we'll be doing
Sat, Aug 24 |  Attending the 28th SuSanA Meeting. Off-site event: Swedish History Museum, 9 am to 5 pm
Mon, Aug 26 | Presenting at the Water Learning Exchange: "Water and Sanitation Solutions for the People Left Behind"  5 to 5:45 pm, Room M1 
Tue, Aug 27 | Co-convening at the Remote WASH: Quality and lasting services for rural communities session, 11:00 am to 12:30 pm, Room L9
Tue, Aug 27 | Co-facilitating the SuSanA Capacity Development Working Group (WG1 Meeting). Open side event: Quality Hotel Globe (2 minutes from the World Water Week venue) 2 to  4 pm. Please register and join us!
Thu, Aug 29 | Presenting at the Cap-Net UNDP Annual Partners Meeting, Room 01
Thu, Aug 29 | Hosting the 4th Annual "Canada Contingent" networking event. Open, off-site event: O'Leary's Restaurant, Arenavägen 69, 121 77 Stockholm, 5 pm. Please join us (eh!)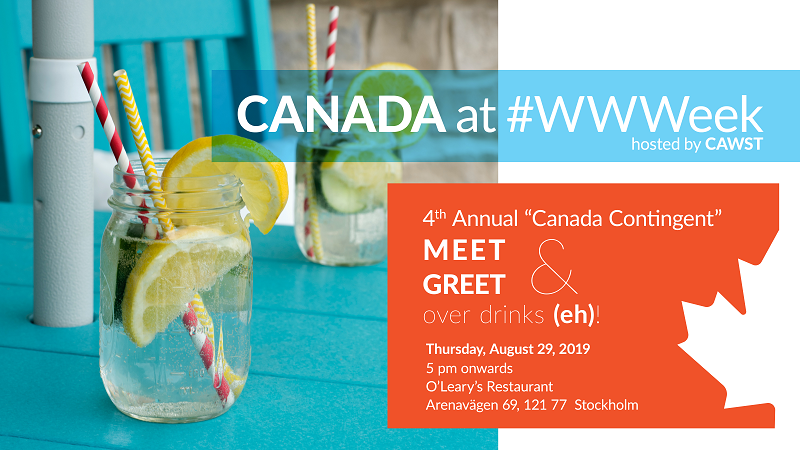 Why capacity development?
(We're glad you asked!) Because it's how you get knowledge to the people who will make use of it, and achieve behaviour change.
Are you into capacity development and sanitation? CAWST co-leads the SuSanA Capacity Development Working Group 1, via Laura Kohler, BA, MSc, PhD. We'd be delighted to see you join the group!
Find out how CAWST can help you start, scale up, or strengthen your WASH programs through capacity development .
Why Household Water Treatment and Safe Storage (HWTS)?
HWTS focuses on simple, yet effective solutions to improve water quality and reduce the risk of diarrheal disease.
The ability of a networked system to provide full-service, sustainable service to a community or city may be limited by cost, land requirements or lack of government capacity. Non-networked WASH solutions:
Are affordable and easily adapted to local contexts
Provide services to marginalized, vulnerable or hard-to-reach communities in remote areas
Protect human health and the environment, in contexts where networked systems are not feasible
Can be constructed, operated, maintained, and financed by community members, when combined with knowledge and skill training.
Dive deeper into HWTS
Learn more about the exciting advances in this area that are happening in Latin America. Check out our HWTS Knowledge Base at hwts.info/tandas.
---
About Shauna and Eva
Shauna Curry is the CEO at CAWST. She joined the team as a Global WASH Advisor in 2004, became head of our global training and consulting services in 2005, and assumed the CEO seat in 2011. She has led the development and expansion of CAWST's service delivery from two countries to its current network of 1,490 implementing clients in 87 countries. Shauna has worked in 14 low- and middle-income countries, has experience in environmental engineering, and holds a Bachelor of Science in Agriculture and Bio-resource Engineering from the University of Saskatchewan. She is passionate about decentralized water, sanitation and hygiene, and the role of capacity building in reaching everyone with safe water and basic sanitation.
Eva Manzano, BEng, MA is a Senior Global WASH Advisor at CAWST. She joined our team as an intern in July 2010 as the translation coordinator. In 2011, she became a Technical Advisor and since then, she has provided training and consulting services to clients in Latin America and Southeast Asia. Eva holds a Bachelor's Degree in Chemical Engineering with a specialization in Environmental Engineering, and a Master's Degree in Development and Humanitarian Aid. Eva leads CAWST's efforts to expand Household Water Treatment and Safe Storage (HWTS) in Latin America. Notably, Eva co-organized and co-facilitated the first-ever Latin America Regional Workshop: Advancing the Water Safety Agenda alongside the WHO/UNICEF HWTS Network, the Government of Colombia, the Panamerican Health Organization (PAHO) and UNICEF. Subsequently, she has co-hosted a number of Learning Exchanges in the region, converging efforts of training and implementing organizations, local service providers, government ministries and departments at various levels, and technology solutions providers. Eva is fluent in English and Spanish. Say "Hola" to Eva and ask her about the encouraging progress reaching remote regions in Latin America with safe water through non-networked solutions at emanzano@cawst.org.