CAWST staff reflect on the past year with an eye to the future
You may be thinking: 2020 is one of those years that is better left in the past. It's true, it was a year marked by sudden and unexpected change, affecting our interconnected world in one way or another. Though it is worth noting that while communities and countries may be in similar boats, those vessels are often in dramatically different waters. The effects of the pandemic have disproportionately affected vulnerable populations.
So what do we see when we look back on 2020? The CAWST team shifted to a virtual service-delivery model, enabling us to provide continued support for our clients and partners globally. Most of our staff have been working from home for more than 10 months. Like many other organizations, CAWST continues to adjust to new ways of approaching our work.
In the spirit of reflection, we asked our CAWST colleagues to look back on 2020 and highlight some key learnings from the year:
Remote Support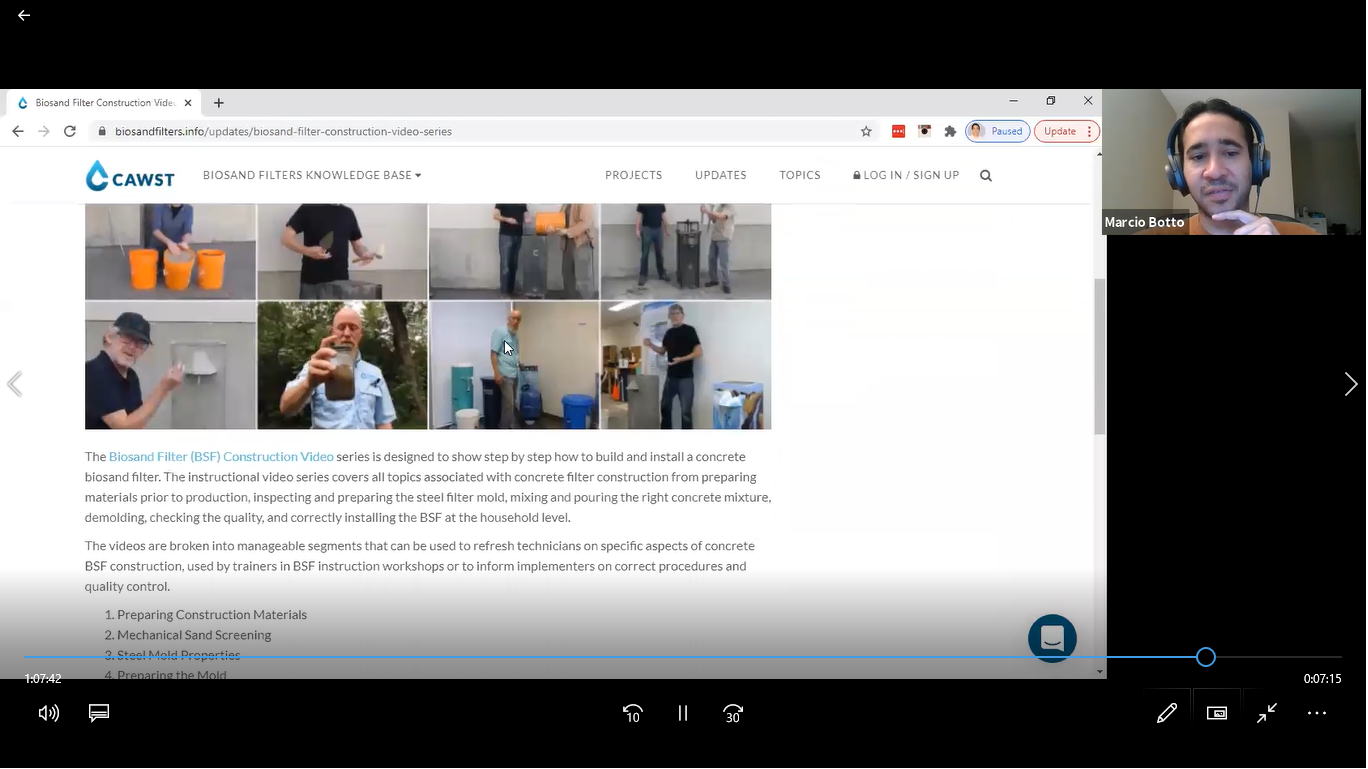 -Marcio providing online consulting support.
"When Emilie invited me to be part of the team of the Remote Consulting Service (RCS) project, I was thrilled with the idea of supporting our clients during these unprecedented times. We are still not able to deliver our trainings and technical support in-country, but knowing that we would be launching a new initiative of providing 90 minutes of free, one-on-one, remote technical support motivated me exponentially.
Even though I got so lucky to have my first client from Angola, a Portuguese-speaking country, I admit I was a bit nervous. The results from the service couldn't be better. I had the opportunity to learn a lot from them and was amazed by the quality of projects and trainings implemented in the field. My first reaction when we finished the service was to share with my colleagues my satisfaction of doing this, and to see how incredible the organizations that we work with are. They can do so much for so long with so little." — Marcio
"Our partners were so resilient and flexible, and found different ways to provide support to the clients and communities they serve. For example, Sehgal Foundation in India provided support to 1,800 biosand filter users using WhatsApp. Another example: WASH SDO in Cambodia provided online training to clients six hours a day using Zoom. Our partners' work was highly gratifying and motivated me to do my job with the same resilience and passion, whether that means making Zoom call at seven in the morning or at 11 at night.
I am very proud to say that we have accomplished so much more than what we envisioned in the beginning of the pandemic. I am sure that, in 2021, we will accomplish even more—whether by providing remote support or in-person trainings to clients, thanks to highly motivated colleagues at both CAWST and our partners." — Suneel
HWTS Network
Offering 90-minute remote consulting services was one of several new initiatives last year. As a long-time advocate for household solutions for safe water, CAWST deepened our commitment by joining the Secretariat of the Household Water Treatment and Safe Storage (HWTS) Network:
"CAWST is thrilled to be co-leading the Household Water Treatment and Safe Storage Network, with the University of North Carolina and World Health Organization. I was struck by the way HWTS Network members were able to creatively adapt their programs during a global pandemic as well as the diversity of experiences from across the Network.
My hope is that the Network can be a vibrant community working together to share learnings from different perspectives to improve water quality in underserved households globally. I hope that members remain curious about how to reach the end goal of people drinking safe water all day, every day." — Melinda
Online Training
Travel restrictions meant that our CAWST team was unable to visit clients and partners in their home countries. However, our team responded with creativity, innovation, and determination to design and deliver remote training this year:
"Not long ago we completed our first remote, big-cohort course in CAWST. It was a first in different aspects; we had a cohort 10-times bigger than usual, facilitators and participants were in different time zones, participants were balancing their work and family duties with their course activities, and they had to deal with a pandemic and two hurricanes! We needed to adapt to all that while trying not to lose the essence of CAWST workshops, which are designed to be as inclusive, participative, and fun as they are educational. We did that by mixing a variety of activities and replacing the physical presence for an intense and frequent virtual communication and touchpoints." — Eva J and Eva M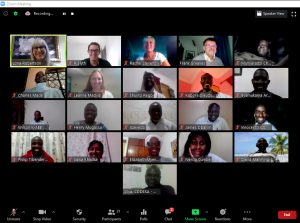 -Lona facilitating online training.
"As the saying goes, where one door closes another one opens. COVID-19 closed a lot of doors for us at CAWST last year due to our inability to travel. Where it opened a door was with our Wash'Em training. The demand for handwashing promotion increased exponentially with COVID-19 and with it so did interest in Wash'Em. While originally developed as a face-to-face training package, we adapted the content for online delivery when we got a request from Tearfund to deliver the workshop to 20 WASH program managers from Africa to Asia…. By the end of the four-day workshop, participants were prepared to assess their communities and enter their findings into the Wash'Em software, which enabled them to design context-specific and innovative hygiene programs." — Lona
"If I had to choose two words to describe this year it would be "Rapid Learning." From the moment COVID hit to now, we've been racing to learn new technologies and approaches to continue to support our clients at a distance—and to support them to do the same with the populations they serve. The results have been amazing to see.
I've witnessed WET Centre staff, who initially struggled to put together PowerPoints, become totally savvy in delivering online learning. I've also seen a huge transformation in our team. At the beginning of the year, we weren't sure what learning management software we would use, or how to use the different tools we had for online learning. Now we are designing courses in Open EdX and using tools like Articulate Storyline to develop microlearning modules. It's been a huge inspiration to see people take up this challenge. We are nowhere near the end of the learning curve, but it's a fantastic ride!" — Lisa
"With the move to delivering our training online, there was a need to test the Open EdX platform. The West Africa team took on the challenge and planned to offer the HWTS training developed in Rise to participants in West Africa (Ghana and Liberia). As the date quickly approached to invite participants to sign up, the team had serious misgivings about using potential clients as guinea pigs and decided to use a friendlier audience in the form of our WET Centre partners in Kenya and Zambia. These willing volunteers were given parts of the course to test out on the platform and opportunities to provide feedback. The partners were enthusiastic participants and CAWST learned a great deal from the experience, even though there are still some outstanding questions around OpenEdX." — Ryan
Developing Resources
Clearly, this was a year of embracing new approaches to our work. Our colleagues developed resources for clients and partners at a distance, including testing latrine designs and filming instructional videos right here in Calgary:
"The digging of the latrines out at Braeside was super memorable. It was a great learning opportunity, and it was wonderful to get outside in the sunshine, get covered in dust from head to toe, and see people in-person (at a safe distance) for the first time in months. We solved problems together, chatted about work or life, exerted some real physical effort in those pits, and looked out for one another. It was a great teambuilding activity… even if it was never intended to be so in the first place. Plus, it gave me deep, deep respect for someone attempting to build a latrine from scratch. It is no joke." — Marike
"Filming the Biosand Filter Construction Videos was a blast! I worked with two directors at CAWST (read: "talented lead actors") to demonstrate a whole range of topics associated with building and installing concrete filters. Who knew that there are so many little tips and tricks involved in getting it right? I sure didn't. I have great respect and appreciation for what Pete and Tal know and for how they are able to communicate that information with humour and a sense of fun. Now, we are looking into doing voiceovers in other languages." — Adele
Making Materials Accessible
CAWST designs and distributes free water, sanitation, and hygiene (WASH) resources for clients and partners (and anyone in the world, really!) to access and use. We want to make sure that our resources are widely accessible, so we prioritize developing materials in three main languages: English, French, and Spanish. Plus, this year we added Arabic to our repertoire! Our talented translations team makes this work possible: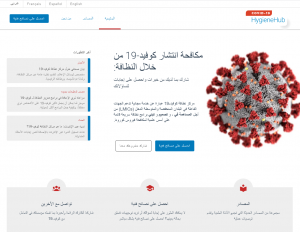 -Resources in Arabic on the Hygiene Hub.
"I guess everyone else at CAWST can say the same thing, but 2020 was not 'business as usual' for Translations. We translated a record number of words, added new languages, and added new modalities. In 2020, we translated nearly one million words, which was three times more than we translated in 2019. We also added Arabic to our list of languages: we translated both Wash'Em materials and Hygiene Hub content into Arabic, in addition to the usual Spanish and French… We also translated a few documents into Portuguese—the first time we've done that in over 10 years. We started working with a subtitler based in Brazil to subtitle videos. Currently, we're working on Spanish voice-overs for the new biosand filter videos." — Andrea
Focusing Efforts
In our current context, it's not difficult to understand the need to focus on urgent tasks. As a nonprofit organization, we learned a lot this year about working together and prioritizing work activities: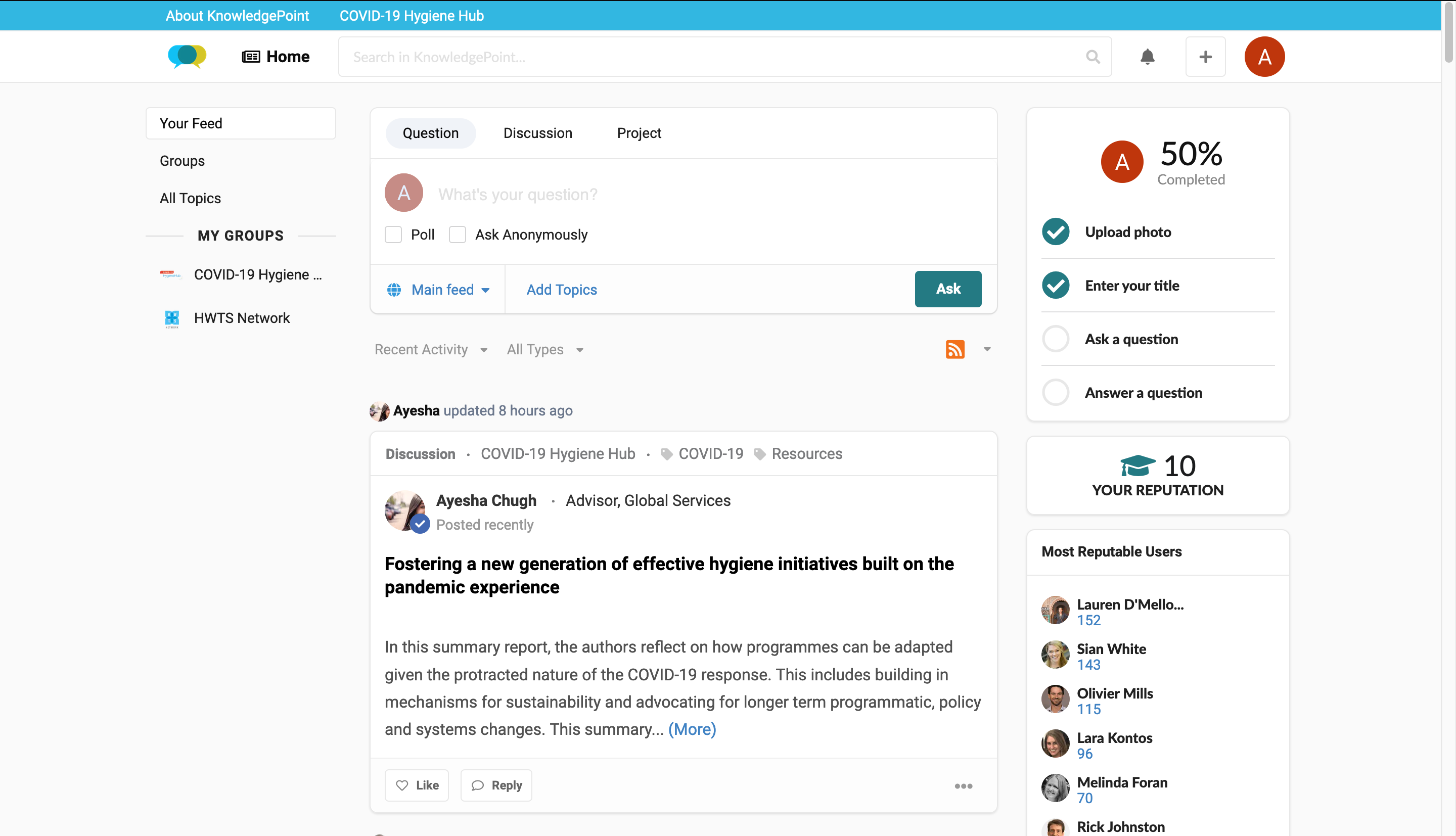 -KnowledgePoint is a global Q&A forum for people who work in the humanitarian and development sector.
"One of the proudest points in the year revolved around the work we didn't do. At the start of our second quarter, we were slated to do a rewrite of the KnowledgePoint website. It could have easily taken half of the year's work or more. Since we're such a small team, we need to know how to work smart, so we make use of lots of free and proprietary tools so we can keep up with CAWST's needs. Around April, Josh whipped up an initial list of promising tools. We each took half the list and looked over the most promising candidates. One on my list was Tribe.so, which was so fully-featured, we were able to get the whole site up with a little account management, and some quick branding work. Working smart like this freed us up to work on other priorities, like the WASH Resources rewrite and new tools for online learning." — Alex M
Looking back on 2020, we want to thank our tremendous supporters for sticking with us. We pivoted activities due to the pandemic, and are proud of what we were able to accomplish together. Thank you to our colleagues, donors, partners, clients, funders, and all those who walk alongside us in our mission to ensure basic water and sanitation needs are met. We couldn't do it without you. And we look forward with anticipation to the necessary and life-giving work that we'll be part of in the future.