"Dave's a humanitarian superhero," says John Clayton, Director of Programs with Samaritan's Purse Canada, about Dr. David Manz; inventor, humanitarian, and co-founder of CAWST.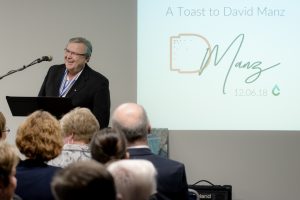 Colleagues, friends and family gathered recently to celebrate Dr. David Manz, inventor of the revolutionary biosand filtration technology that's been instrumental in providing clean water to millions of people all over the world. The evening was much more than a celebration of Dave as a "superhero;" it celebrated the extended network of people who support and believe in a world where people have the opportunity to succeed because their basic water and sanitation needs have been met.
Emceed by Rick Castiglione, the evening hosted about 150 people hearing stories about Manz, his biosand filter, and the lasting impacts of his humanitarian legacy. "Superhero Dave's archvillain is the femme fatale, acute diarrhea, and his superhero suit is made of 'schmutzdeke' (meaning dirty blanket) that repels all the villainous pathogens," says Clayton affectionately.
The praise for Dr. Manz was long, and heartfelt. "I'm really touched to be part of this," says Shauna Curry, CAWST CEO. "The very essence of CAWST's vision surrounds David's invention and his willingness to share it."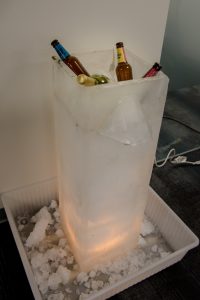 Yes, that's an ice biosand filter made by our staff.
Mayor Naheed Nenshi conveyed his kind words in a video message.
CAWST's co-founder, Camille Dow-Baker, also sent her admiration from her home in Tobago: "On behalf of millions of people, thank you David for caring so much."
The mood was festive as people mingled and enjoyed a delicious assortment of appetizers, drinks and an ice biosand filter display. The most special moments were the shared stories of personal times with Manz, and the impact of water knowledge and the biosand filter.
The crowd was treated to a mix of past students, friends, and colleagues taking turns at the mic sharing their stories of their work and friendship with Dr. Manz. "Dr. Manz was not just innovative. He faced the impossible, and proved its possibilities," said Candice Young-Rojanschi, Knowledge & Research Advisor at CAWST, whose doctoral research involved the biosand filter and household water treatment.
Barry Stewart and his wife Pat were part of the well-wishers. "I had the honour of being the first chairman of the board at CAWST, back in 2001," says Barry. "It's really exciting to be here and see the progress and success."
The sense of belonging to something much greater than ourselves was clear at the event. It honoured the many ways many people share the Gift of Water knowledge, from supporting CAWST, to dispersing biosand filters internationally, to being the supportive family of someone like Dr. Manz.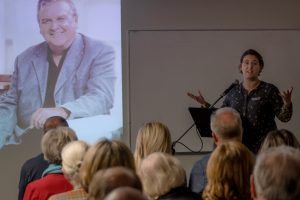 "Dr. Manz was not just innovative. He faced the impossible, and proved its possibilities," said Candice Young-Rojanschi, Knowledge & Research Advisor at CAWST
Recently inducted into the Alberta Order of Excellence, Dr. David Manz has been sharing the Gift of Water knowledge for more than 30 years now. Over those years, he has collected friends and followers who contribute to and are part of this global community.
CAWST's Tal Woolsey summed up the evening: "As David often says: 'If you could do something good, why wouldn't you?'"
---
Photos by Lindsay Sullivan, one of our talented volunteers.